About Health Point Clinic
Lorna Jackson 1st BSc (Hons) Acupuncture, MBAcC, AFN
Jersey born, Lorna returned to the island and founded Health Point Acupuncture Clinic in 2011 alongside Olivia Jackson's Greencliff Chiropractic Clinic; she also has a clinic at the Lido Medical Centre.
Lorna was inspired to study acupuncture after experiencing the beneficial effects it had upon
 her during her dance career. Acupuncture and massage are both safe techniques, used on babies, during pregnancy, through to sports enthusiasts, the elderly or as a maintenance treatment.
Why did you become an acupuncturist?
"I have always been interested in body mechanics, function and the beauty of movement. This started at an early age having grown up surrounded by a family who practice chiropractic as well as having danced since I was two. 
I have trained and worked within dance and musical theatre and in doing so experienced firsthand the effect of injury. This was how I initially discovered acupuncture and traditional Chinese medicine. Now I wish to provide the same benefits for our community.
Acupuncture not only helped treat the injuries that I came in with but gave me control over them. I regularly used it to maintain my health as part of a general maintenance program, not only for my aches and pains but to keep my mind and body focused on the job or audition at hand.
I fell in love with the way acupuncture treats each person's underlying pattern of disharmony as unique. No matter the injury either physical or emotional, we all lead different lives with diverse inherited constitutions. We each eat, drink, exercise and react differently. This aspect really appealed to me, as no one should feel one in a hundred auditioning for the same role but important, listened to and cared for. My passion is to bring this aspect to every treatment. My goal is to provide a safe, open and relaxing environment in which each patient feels comfortable and confident providing me with honest feedback.
I enjoy meeting so many different people from different walks of life and I feel it a great privilege that they have walked through the door and that I have a chance to help."
Special interests:
Post-graduate training with renowned specialist Jani White in gynaecology and fertility acupuncture, IVF and women's health. 
Professional Memberships: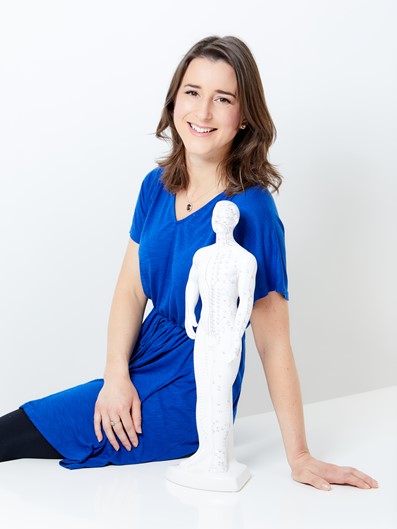 Book your visit online
To register for an appointment please click on the button below.
Book Appointment
I was referred to Lorna by my local GP after the re-occurance of problems in my shoulder and neck. The injury was from being hit by a car while out cycling over 18 months ago. Lorna quickly assessed the problem of the damaged muscle area but also correctly predicted the secondary effects on other muscles. Lorna is very professional and dedicated to her work that it makes your treatment less stressful. I would recommend Lorna to anyone, especially sports people looking to clear up injuries in a positive way with long term benefits.

Peter (39): Acupuncture